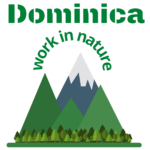 To make working from home more exciting, the Caribbean island of Dominica has introduced an exciting initiative, "Work from Nature Programme".
The Work in Nature (WIN) Extended Stay Visa programme allows tourists to relocate to Dominica and work remotely from Nature Island for up to 18 months.
BENEFITS OF DOMINICA
Known as the Nature Island of the Caribbean, Dominica is a tropical paradise loved by travelers across the world. This safe, English-speaking country has a wide variety of accommodation options as well as excellent education facilities. Naturally beautiful, this lush island provides a sanctuary for those wanting to reconnect with nature. The ideal place to truly find that life-work balance. Relax, recharge, and breathe.
WORKING IN NATURE
The Work in Nature (WIN) Programme has been specifically designed for you. It enables you to live, work, and rejuvenate in Dominica for up to 18 months. Leave the stress of the world behind and switch to a healthier, and more liberating lifestyle.
LIVE & WORK IN DOMINICA
The Work in Nature Programme is the answer for digital nomads and those working remotely who want to escape a stress free and restrictive living and working environment. Welcoming to individuals and families, Dominica has safe transports systems, hospitals and schools are all of a high standard, and the entire island enjoys excellent internet connectivity. Don't dream of living in paradise – do it. Come and spend some time living, breathing, and enjoying life with us.
ESCAPE AND REJUVENATE
Whether you choose an extended or a short-term escape from the world, Dominica's natural environment, friendly people, and laid back lifestyle will help to rejuvenate your body and your mind.
MOVING TO DOMINICA
Dominica is an English-speaking island in the eastern Caribbean, located between the French islands of Guadeloupe and Martinique. It is known as the nature island because of its mountains, rainforest, rivers, lakes and waterfalls.
Accommodation options are varied. We have a broad selection of luxury resorts, boutique hotels, eco cottages, lodges, villas, and apartments. Our infrastructure, public utilities, hospitals, schools, transport services, and internet connectivity are solid and reliable.
We welcome applications from individuals, families, and business teams.
Children are welcome to attend school – whether at primary, secondary, or tertiary level – an experience that will enrich their lives.
The WIN Visa allows you to live, work, and enjoy Dominica for up to 18 months.
Additional benefits include:
Income Tax Waiver
Duty Free Concessions on Importation of Personal Effects
Ability to apply for an annual Driver's Licence
Free Travel During the Period That Your Visa Is Granted